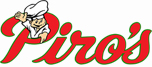 italian Bakery
is ideal for a simple everyday treat or a perfect way to celebrate any special occasion.
Our large variety of Italian breads, desserts, cookies, pies and cakes are a perfect complement to any meal. Authentic Sicilian-style pizza, fresh meat and spinach pie and hand-made calzones offer a delicious and convenient way to feed a family of four or a party of forty.
Piro's Italian Bakery.
Treat yourself to something special.